Powerful Herbal Remedies for Long COVID
Studies have shown that COVID-19 can find its way into the liver and gallbladder, like many other pathogens that take up residence in these organs to cause autoimmune disease. Autoimmune disease, after all, is a brand. It is an idea that has been branded and advertised to the public
en masse
and after years of being inundated with the idea of autoimmunity, people believe that autoimmune diseases exist. In fact, there are so many autoimmune disease names and labels that it would take several days for me to attempt to list them all in one document. But despite this attempt by Big Pharma to brainwash the general public about autoimmunity, a multitude of scientists have independently discovered pathogens living in the liver or gallbladder (as well as sometimes in the meninges and brain issues, kidneys, pancreas, spleen, or bone marrow) from diseases that had long resolved in the patient's past. A huge library of studies demonstrate that every autoimmune disease has specific associations with particular infectious pathogens. Which brings us back to the idea of COVID and how COVID turns into Long COVID.
Read more about autoimmune disease as an infection here. 
Gallstones as Ancestral Bones Two years ago, some family members who had been vaccinated against COVID visited us for 2 weeks. They stayed in our home with us, so we spent a lot of time when them. We started to become ill about 2 days before they left. And after they'd been gone for about 24 hours we were fully ill with fevers and the whole COVID-19 symptom picture. Though normally,
we would've begun treatment with Chlorine Dioxide Solution / Miracle Mineral Supplement
within hours of developing symptoms, we were traveling with 4 cats and estranged family members, one of which was actually patient that we were treating for addiction. So we neglected ourselves and allowed the COVID to take hold, a decision we definitely regretted later. Our COVID infection wasn't severe, but we had difficulty recovering. Lydi and I were vomiting green bile about 10 days after our infection commenced. This was the first clue that our gallbladders were somehow involved in Long COVID. There wasn't a lot of information online about natural treatments for Long COVID at that time, so we paid close attention to ourselves and experimented with different medicines. One night, I had a fever (again), and I had a dream that I was digging for bones inside my gallbladder. My Spirit Guides were talking about how dry it was in there and how this dryness caused the situation to get worse. They referenced the sea and showed me the fossil beds at the bottom of the ocean and how these fossils were my ancestors. These ancestors dissolved in the water would heal me. This was how I learned about the use of sea water supplements to cure Long COVID.
Note that sea water supplements are not a stand-alone cure, but they definitely help by hydrating the fascia that surrounds the gallbladder. At least 1 teaspoon should be administered in every 8 ounce glass of drinking water that the Long COVID patient drinks throughout the day.
My Spirit Guides went on to explain that gallstones are also like bones. They represent trauma and stress. Like trees, if you cut into a gallstone, it has rings and the rings are like stories---years or days of stress. COVID can live on gallstones. Having gallstones in the liver and gallbladder clogs up the ducts making it hard for bile to clear out the COVID virus from these vital organs.
Red Clover and Licorice Root
Recently, it came to my attention that Red Clover / 
Trifolium pratense
and Licorice Root / 
Glycyrrhiza glabra
can help the gallbladder / liver sphincters release and open so that gallstones are less likely to block the ducts. We discuss this amazing remedy in greater depth here
at this link
. It can be used to cure migraines that are caused by biliary dyskinesia, but you can also use this herbal remedy to treat Long COVID. Do not combine it with Palo de Campeche. This herbal remedy for Long COVID should be administered separately.
The Hulda Clark Gallbladder Cleanse
Another important supportive natural treatment for Long COVID is the
Hulda Clark Gallbladder Cleanse
. Removing gallstones means removing a place for the COVID virus to hide inside the gallbladder and the liver. This simple gallbladder / liver cleanse is fundamental as a natural cure for Long COVID. Plan to do at least 5 cleanses to remove all gallstones in the liver and the gallbladder.
Studies Showing that COVID Lives in the Gallbladder
One study demonstrating that COVID-19 is able to find its way into the gallbladder, liver, and biliary system of ducts that connect the liver and the gallbladder to each other involved a patient with cholecystitis, or inflammation of the gallbladder. The patient had developed
gangrene of the gallbladder
. In this study, the patient was given serum tests, oropharyngeal swabs, sputum tests, bile tests, a test of abdominal drainage fluid, urine and stool tests, and also a PCR test. Gallbladder tissue was harvested and tested for COVID virus RNA using Hematoxylin and Eosin staining. 
Though the bile, serum, oropharyngeal swab tests, sputum tests, abdominal drainage fluid tests, urine and rectal swab tests were all negative for COVID-19 RNA, the viral host receptor angiotensin-converting enzyme-2 (ACE2) was expressed in the gallbladder epithelial cells. Indeed, the COVID virus nucleocapsid protein was also able to be observed in the cytoplasm of gallbladder epithelial cells. 
The goal of this study was merely to prove that COVID-19 could take up residence in the gallbladder tissues.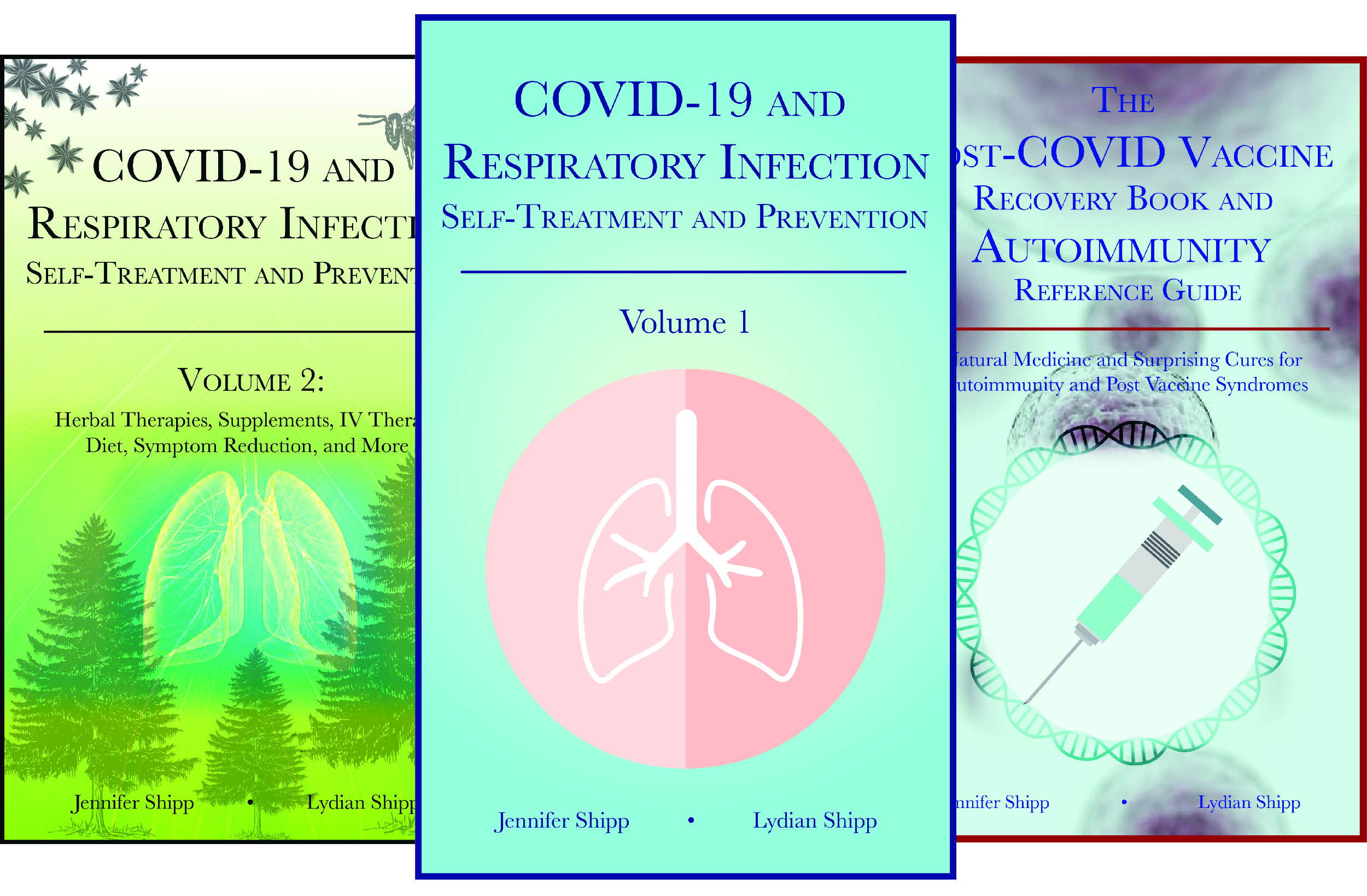 Download our COVID-19 Treatment and Prevention + Post-Vaccine and Long COVID Treatment Book Bundles here.
Indeed, when Lydian and I developed COVID several years ago, it didn't take long for us to realize that the gallbladder was involved in Long COVID. Though our COVID symptoms went away within about a week, symptoms of Long COVID took shape and refused to let go. So we decided to write a book about how to heal the gallbladder. It came to our attention at one point that Hematoxylin, a substance derived from the bark of the Palo de Campeche tree, was able to reach the gallbladder to kill pathogens living in this organ. Instead of obtaining purified Pharmaceutical Grade Hematoxylin, we ordered Palo de Campeche and made tea with this plant-based remedy. We alternated between Palo de Campeche (from which the red stain Hematoxylin is derived) and Methylene Blue (which is usually used as a histological stain too, even though it is a miraculous medicine) in the treatment of Long COVID.
Read more about how we were able to cure Long COVID naturally at home
.
The scientists in the study we cite above used Hematoxylin and Eosin stain to
observe and study the COVID virus artifacts
, but in reality, pure, pharmaceutical grade Hematoxylin could be used to cure Long COVID because of its ability to penetrate gallbladder tissue. When Hematoxylin is used with Eosin, however, it is toxic and not medicinal. 
Years ago, Lydian and I researched cures for necrotizing fasciitis or gangrene, a disease that can't be treated using Chlorine Dioxide Solution / Miracle Mineral Supplement or other Reactive Oxygen Species Medicines and at that time, we discovered the Palo de Campeche or Hematoxylin could be used to cure necrotizing fasciitis as well. And certainly it could be used to cure gangrenous gallbladder tissue as well. 
Read more about the use of Hematoxylin to cure necrotizing fasciitis here. 
Download The Gallbladder and Beyond: A Curious Organ at the Core of Digestive Health and learn how to restore health to the gallbladder naturally at home.
Study #2: Scientists in this study notes that the liver and the gallbladder are frequently involved in COVID-19 infection. Their patient was a 59 year old male with acute ischemic and gangrenous cholecystitis with a perforated gallbladder that needed surgery. He was in the throes of an active COVID infection when he first arrived at the hospital. Signs of gallbladder involvement occurred at day 32. As it turned out, the gallbladder as well as some of the omentum (nearby tissues) were involved. Once again, Hematoxylin and Eosin were used to stain the tissues. Blood vessels in the omentum had blood clots that had blocked blood flow to the gallbladder. Licorice Root / Glycyrrhiza glabra has the ability to keep blood flowing even after a snake bit. Studies into the effects of snake venom on blood flow have been used as models in the treatment of Long COVID and Post COVID vaccine syndrome.
Click here to read this study
demonstrating that licorice root can counteract the effects of snake venom to keep blood moving and prevent blood clots due to the COVID vaccine or due to Long COVID.
Resources:
•
Hong, X. et all. (2021). Evidence of SARS-CoV-2 infection in gallbladder and aggravating cholecystitis to septic shock: a case report. Retrieved March 7, 2023 from
https://pubmed.ncbi.nlm.nih.gov/34926675/
FREE CANCER CURE CATALOG - VOLUME 1
After signing up, you'll receive an email containing a link to download your free e-Book. In the future, you'll receive occasional emails FROM US ONLY about topics related to health and self-care. We will not sell your email address. We will not share your email address. It's only for our use and you can opt-out any time simply by clicking a link at the bottom of the email.
We're currently giving away the first volume of The Cancer Cure Catalog, the first of a 4 volume reference set of scientifically proven cancer cures complete with a resource list of scientific articles and testimonials for each treatment listed.
Fill out the form below to receive your free e-Book!