The Jim Humble books recommend that individuals who are currently following
any
MMS/CDS protocol should also be brushing their teeth with an MMS solution at least once daily to complement recovery. This is true even if you don't have any significant dental or oral issues! The mouth and the teeth are extremely important for general health, and should be cared for with the same level of attention as the rest of the body for best results using this medicine. If you have cavities, abscesses, thrush, or other oral health problems, this protocol will also be valuable for you. 
Tooth Brushing Protocol
Activate 5 drops of MMS (5 drops of 28% sodium chlorite solution + 5 drops of an acid) in a glass container.

After 30 seconds (the solution be lightly orange), pour in a ¼ cup (2oz or 60ml) of clean, purified water and swirl around to mix with the activated MMS solution.

Brush your teeth and gums using this mixture for a total of about 2 minutes. You will need to dip your toothbrush in the water mix at least 3-4 times.

Ideally, brush your teeth 2-3 times per day with this solution to complement whichever MMS protocol you are currently following.
For people whose teeth and/or gums need extra help (in the case of abscesses, cavities, etc., for example), you may mix dimethylsulfoxide (DMSO) with the mixture above. If you're using 90% DMSO or higher, you will mix in a total of 15 drops of DMSO (a 3:1 ratio of DMSO to activated MMS) to the water containing the MMS solution. Use a natural fiber toothbrush and only add the DMSO immediately before brushing. If the DMSO you have has a concentration of less than 90%, add the DMSO at a 4:1 ratio (in other words, you'll need 20 drops of DMSO and 5 drops of activated MMS). 
You may make this solution in advance for use throughout the day, if you wish. The recipe above is for one episode of tooth brushing. If you're planning to brush twice a day, double the recipe and store the remaining MMS solution in an airtight, glass container. Before brushing the first time, pour out the solution you plan to use first into a different container (you should not "double dip" in the solution you're planning to store). If you're using DMSO, make sure that both containers are glass (not plastic or ceramic), and add the drops immediately before brushing your teeth each time (don't store the MMS for the day
with
the DMSO as the DMSO will make the MMS less effective if the two are stored together in the same solution over time).
Dental Health with MMS1 for Children and Infants
Children and infants between 12-49 lbs (5.5-23 kg) should use 1 activated drop of MMS1 per one ounce of water in this dental health solution. Use 3 drops of DMSO with the solution. 
For children weighing 50-74 lbs (23-34 kg), use 2 activated MMS1 drops per one ounce of the teeth brushing water solution. Use 6 drops of DMSO in the solution. 
Children who weigh more than 75 lbs (34+ kg) may use 2.5 activated MMS1 drops per ounce of water in this dental health solution. Use 7 drops of DMSO. The Layperson's Guide to Chlorine Dioxide and Miracle Mineral Solution - BUY NOW!
---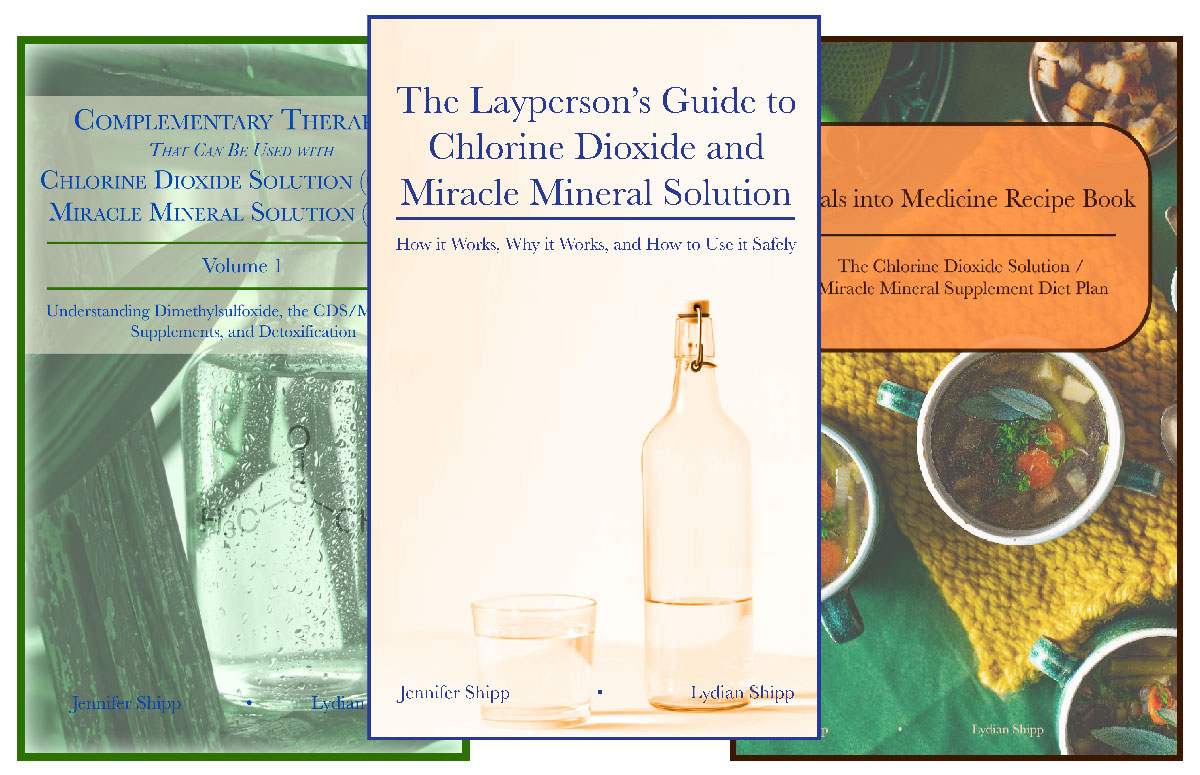 Click here to get the Complete CDS/MMS Book Bundle - Includes "The Layperson's Guide to Chlorine Dioxide Solution/ Miracle Mineral Solution", "Complementary Therapies That Can Be Used with CDS/MMS, and "Meals Into Medicine Recipe eBook: The CDS/MMS Diet Plan".
Related Posts: